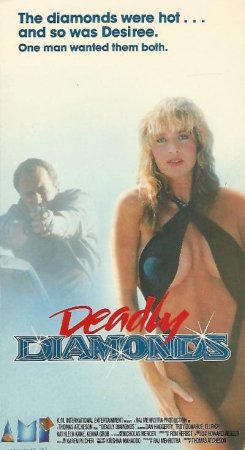 Deadly Diamonds (1991)
Year:

1991

Directed by:

Thomas Atcheson

Starring:

Dan Haggerty, Troy Donahue, Eli Rich, Kathleen Kane, Kenna Grob, Phil Brock, Mike Jacobs Jr., Catherine Case, Christina Veronica

Genre:

Action, Drama, Erotic

Country:

USA

Category:

action
Description:
What do you get when you cross a call girl, a mobster and stolen diamonds? A whole lot of trouble. Desiree escapes with a mysterious key which will lead her to the diamonds. Gangsters chase after her, but luckily she's rescued by Martin, a mildmannered messenger.
Together Desiree and Martin embark on a perilous journey into the desert and into Los Angeles' most dangerous alleys. In search of thirty million dollars worth of diamonds, they dodge mobsters, police and F.B.I. - a journey that ends on the sunny French Riviera. 
Starring Dan Haggerty, star of the hit TV series "Grizzly Adams."
Duration:
01:33:28
Language:
English
Quality:
VHSRip
Format:
MP4
Size:
885 MB