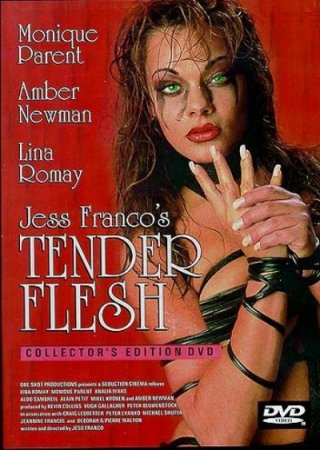 Tender Flesh (1997)
Year:

1997

Directed by:

Jesus Franco (as Jess Franco)

Starring:

Lina Romay, Monique Parent, Aldo Sambrell, Alain Petit, Analia Ivars, Mikail Kronen, Amber Newman

Genre:

Erotic, Comedy, Horror

Country:

Spain | USA

Category:

comedy
Also Known As:
Carne fresca
Description:
Paula (Amber Newman), a hot, sexy young actress, cannot possibly imagine the untold pleasures that await her.
Responding to a casting call, she finds herself en-route to a remote tropical island villa with a handful of wealthy and eccentric Europeans including a gorgeous Baroness (Monique Parent) with an insatiable appetite for seducing beautiful women. 
Within this exotic paradise they indulge in all manners of kinky, erotic and debauched escapades - with Paula an innocent yet very willing participant! 
But she soon discovers that a treasure hunt is about to take place...and she is the prey! 
Pursued through the jungle, Paula will have exactly two hours to save herself...or face the fury of her sex-crazed hosts!
Duration:
01:31:41
Language:
English
Quality:
DVDRip 
Format:
MKV
Video:
MPEG4 Video (H264) 706x390 23.976fps 2062Kbps
Audio:
Dolby AC3 48000Hz stereo 192kbps 
Size:
1,47 GB