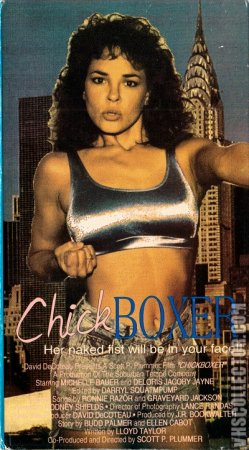 Chickboxer (1992)
Year:

1992

Directed by:

Scott P. Plummer

Starring:

Julie Suscinski, Shawna Baer, James Black, Michelle Bauer

Genre:

Comedy, Action, Crime

Country:

USA

Category:

comedy
Description:
Her naked fist will be in your face!
Blazing across the airwaves comes America's favorite super-heroine Chickboxer! Somewhere in the midwest, a young woman named Kathy watches Chickboxer's weekly television show in awe. Trying to emulate her swift kicks and super moves, Kathy enrolls in a loca Karate school where the teachers are up to some dirty dealings, drugs, prostitution and more! intent on busting the teachers and cleaning the school of scum, Kathy is on her way to kicking bad-guy butt Unfortunately she's no match for the bad guys until a detective who's been on the bad guys' trail comes to her rescue Chickboxer's finale explodes in a action packed all-out kickboxing war! 
Chickboxer is a smash action epic from the creators of The Dead Next Doo Lady Avenger and Ghettoblaster!
Country:
USA
Duration:
01:01:30
Language:
English
Quality:
DVDRip 
Format:
MKV
Video:
MPEG4 Video (H264) 720x480 (4:3) 29.97fps 1946kbps
Audio:
Dolby AC3 48000Hz stereo 192kbps 
Size:
959 MB