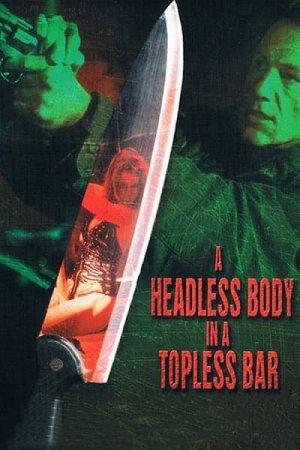 Headless Body in Topless Bar (1995)
Year:

1995

Directed by:

James Bruce

Starring:

Raymond J. Barry, Rustam Branaman, Jennifer MacDonald, Taylor Nichols, David Selby, Paul Williams, April Grace

Genre:

Comedy, Crime, Drama, Thriller

Country:

USA

Category:

crime
Also Known As:
Striptease thanatou / Ans Messer geliefert
Description:
In a seedy topless bar, a group of men watch a stripper dance for their pleasure. But one of them is an ex-con who's about to put the group on a collision course with death.
 Inspired by an actual New York City crime, Headless Body in Topless Bar sizzles with tension. The lonely, twisted killer takes the patrons hostage and puts them through a bizarre, intriguing, and darkly humorous pop psychotherapy session that's part truth or dare, part Russian roulette. 
 A searing drama ensues, attacking the politics of gender, the effects of institutionalization, and the deadly dance between predator and prey. Who will survive? The jaded stripper? The Wall Street sexual deviate? The wheelchair-bound regular? The beer-chugging hockey buddies? It's judgement day as the killer prepares an execution...  
 The stellar ensemble cast includes Raymond J. Barry Dead Man Walking, Year of the Dragon, David Selby Dying Young, Falcon Crest, Taylor Nichols Barcelona, Congo, Jennifer MacDonald Dream On, Red Shoe Diaries, Rustam Branaman The Rapture, and features internationally-acclaimed composer and Academy Award Winner Paul Williams Picket Fences, The Doors.
Duration:
01:43:55
Language:
English
Quality:
DVDRip
Format:
MP4
Size:
2,04 GB