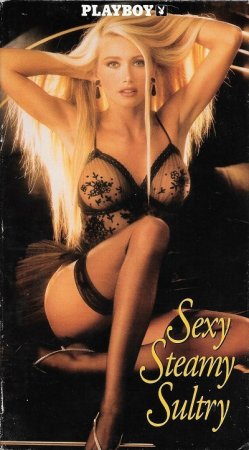 PLAYBOY: Sexy, Steamy, Sultry (1993)
Year:

1993

Directed by:

n / a

Starring:

Stephanie Adams, Ashley Allen, Pamela Anderson, Lynne Austin, Cheryl Bachman, Tanya Beyer, Tawnni Cable, Cady Cantrell, Tonja Christensen, Morena Corwin, Kimberley Donely, Samantha Dorman, Deborah Driggs, Ava Fabian, Debra Jo Fondren, Karen Foster, Morgan Fox, Wendy Hamilton, Corinna Harney, Elke Jensen, Tylyn John, Echo Johnson, Wendy Kaye, Kerri Kendall, Christina Leardini, Jennifer LeRoy, Saskia Linssen, Lisa Matthews, Angela Melini, Barbara Moore, Lorraine Olivia, Alesha Oreskovich, Suzi Simpson, Tiffany Sloan, Anna Nicole Smith, Renee Tenison, Cristy Thom, Nicole Wood, Carrie Yazel, Brittany York

Genre:

Softcore

Country:

USA

Category:

erotic
Description:
When it comes to being the ultimate in sexy, steamy and sultry, no one does it quite like Playboy!  And now, they'll do it just for you in this exclusive video spectacular featuring more than a dozen captivating Playmates in a dazzling display of their most sensual fantasies.
You'll get of to a sizzling start as our hot-blooded beauties shed their inhibitions (and much more!) with steamy sequences in "The Heat of the Night."  Next, it's time for "Steppin' Out" in style with your favorite Playmates as they strut their stuff in arousing adventures from city streets to silken sheets.  Then, you'll be entranced by the allure of "Whispers," as our lovely ladies show you their softer sides with a peek into their most private world, and many more sensational surrenders.
This is the stuff that dreams are made of... and then some... in the sexiest, steamiest and sultriest collection ever!
Duration:
00:29:40
Language:
English
Quality:
VHSRip
Format:
AVI
Video:
MPEG4 Video (H264) 720x480 (4:3) 24fps 1310kbps
Audio:
AAC 44100Hz stereo 128kbps
Size:
305 MB