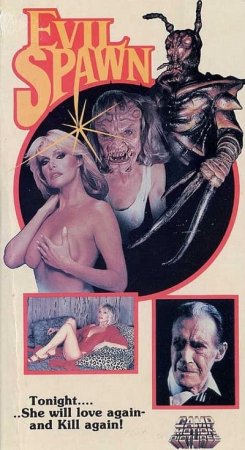 Evil Spawn (1987)
Year:

1987

Directed by:

Ted Newsom, Fred Olen Ray, Kenneth J. Hall

Starring:

Bobbie Bresee, Drew Godderis, Dawn Wildsmith

Genre:

Horror, Sci-Fi, Erotic

Country:

USA

Category:

horror
Also Known As:
Alien Within / Alive by Night / Deadly Sting
Description:
What would YOU give to be beautiful and young forever - to be the ENVY of every woman the DESIRE of every man?
Lynn Roman (Bobbie Bresee - beautiful star of "GHOULIES and MAUSOLEUM") discovers the ter rifying answer. As a fading movie queen, Lynn will go to any lengths to once again be Hollywood's hottest sex goddess; anything including injections of an experimental drug developed by the mad Dr. Zeitman (John Carradine, America's Premiere Horror Star)!
The drug works - beauty, love & fame are hers once again - But, she must pay the price at night chang ing into a hideous insect-like creature that mutilates everything in its path with a powerful stinger-like appendage.
Tonight.... ..She will love again and Kill again!
Duration:
01:15:44
Language:
English
Quality:
DVDRip
Format:
MP4
Size:
748 MB