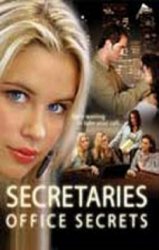 Secretaries: Office Secrets (2005)
Year:

2004

Directed by:

Janine Gosselin

Starring:

Kelli Brown, Dale DaBone, Alana Evans, Jamie Sweet, Chris Evan, Jessica Hinton

Genre:

Romance, Mystery, Erotic

Country:

USA

Category:

romance
Also Known As:
Secretaries: Dirty Office Secrets / Secretaries
Description:
Office Secrets' is a nonstop seduction of the office kind. Getting a promotion isn't as easy as it looks unless you have great assets.
She Taking All Calls
Kelly was a shoe-in as the new executive secretary for Mr. Patterson, the intimidating vice president of the prestigious accounting firm. She had the skills, the r'sum, and the seniority, but, when unfairly passed up by someone less qualified, she sensed foul play.
Especially when the girl promoted, Jessica, was known for her multiple sexual positions rather than administrative skills.
Unhappy with Mr. Patterson's decision to pass her over for office promiscuity, Kelly vows to get to the bottom of the situation with the help of her trusty co-workers, Amber and Randy.
As the three embark on their mission to reveal the truth, they uncover dirty office secrets that could cost them their jobs.
Duration:
01:32:39
Language:
English
Quality:
DVDRip
Format:
MP4
Size:
1,27 GB
DOWNLOAD