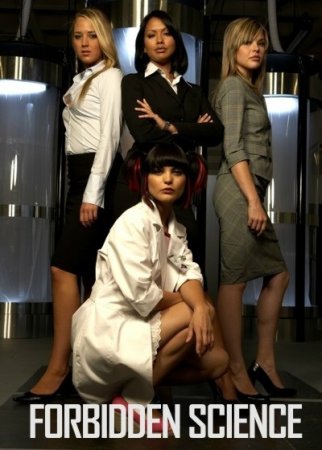 Forbidden Science (Season 1 / 2009)
Year:

2009

Directed by:

Melanie Orr

Starring:

Vanessa Broze, Joanne Alderson, Noelle Dubois, Levi Freeman...

Genre:

Softcore, Drama, Fantasy, Mystery, Romance, Sci-Fi, Thriller

Country:

Canada

Category:

series
Description:
Forbidden Science is a unique blend of noir science fiction and erotic programming combining intelligent scripts, attractive characters with great production value. Set in the near future, the stories revolve around an elite corporation, 4Ever Innovations, whose young and brilliant scientists download and sell memories. They replace those we've lost with clones and devise technology that helps us live out our greatest fantasies; from saving a failed relationship, to creating the perfect lover, to being irresistible to the opposite sex - but sometimes our deepest desires come at a terrible price. For there are secrets within 4Ever Innovations that may cost you your life.
Episode 1. 4Ever
Two women have to start their lives over; one after a devastating divorce, the other after having been murdered. Yes, murdered.
Episode 2. Adversaries Part 1
When 4Ever announces a new cloned-organ lab, someone sets a bomb in the building. Bethany and Julia both try to put the past behind them and begin a new life at 4Ever.
Episode 3. Adversaries Part 2
After Colin is nearly killed in an explosion, he and the 4Ever team set out to discover who's responsible for the bombing.
Episode 4. Weekend
It's the weekend, but no one seems to be going home. Penny tries to create the perfect lover, while Bethany uncovers a secret project: Level 6.
Episode 5. Hotzone
When an employee of 4Ever is found dead, Philip uses the experimental Gold Chip to relive the last few hours of their life.
Episode 6. Property Part 1
Julia falls in love with an android who is about to be destroyed by her company, and she makes a fateful decision that will put her at odds with her friends.
Episode 7. Property Part 2
Julia is on the run with an android she stole from 4Ever. Now, both her friends and the company's competitors are hunting for them.
Episode 8. Lonely
When Laura begins an online virtual-affair, she uncovers secrets about who really created 4Ever Innovations.
Episode 9. Tarot
When Bethany is kidnapped by a group of Bio-Terrorists, Colin is forced to ask Julia for help. Julia must use a highly experimental, and dangerous procedure to enter the mind of a dying scientist.
Episode 10. Virus
Penny Power to the rescue! When the 4Ever building is taken over by a thinking computer virus, Dr. Penny Serling suits up to save the day.
Episode 11. Erase
Julia, a clone of a dead woman, discovers a way to erase all of her programmed memories, and to finally be able to live her own life...but at what cost?
Episode 12. Secrets
The answers start here. When the Gold Chip is successfully completed, Colin tries to find a way out of his deal with Adrian, and the Level 6 project.
Episode 13. Home
Discover the truth. Live 4Ever. Colin's missing, and Bethany uncovers the secret of Level 6. (Season finale).
Duration:
13 x 00:30:00
Language:
Russian, English 
Quality:
HD 720p
Format:
MKV
Video:
MPEG4 Video (H264) 1276x720 23.976fps 6000kbps
Audio:
Dolby AC3 48000Hz stereo 192kbps - Russian
Audio:
Dolby AC3 48000Hz stereo 192kbps - English
Size:
~ 750 MB
DOWNLOAD