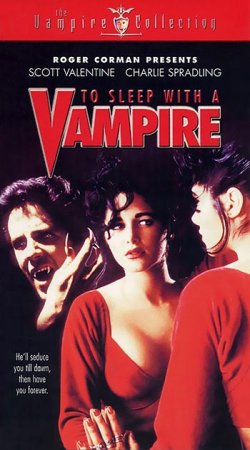 To Sleep with a Vampire (1993)
Year:

1993

Directed by:

Adam Friedman

Starring:

Scott Valentine, Charlie Spradling, Richard Zobel

Genre:

Thriller, Drama, Horror, Romance, Erotic

Country:

USA

Category:

thriller
Description:
HE'LL LOVE YOU TILL THE BREAK OF DAY.
Scott Valentine plays a nightstalking vampire torn between his need to feed and his desire to know about the day. In his quest for knowledge he charms the beautiful and tempting stripper, Nina, into helping him learn.
Nina's world is also the night - strip clubs, dance halls and bars. But what little daylight she sees she spends dreaming of her son, who, through her own neglect, now lives with his father. She is not proud of her past and misses her son desperately. Their shared misery creates a bond between Nina and her vampire friend.
As the night grows closer to day, Nina realizes that her vampire will soon turn on her. How can she escape from a being that's faster and stronger? She decides to use the only weapon she knows: seduction.
Duration:
01:16:19
Language:
English
Quality:
DVDRip
Format:
MKV
Video:
MPEG4 Video (H264) 702x480 23.976fps 2537kbps
Audio:
Dolby AC3 48000Hz stereo 192kbps
Size:
1,45 GB