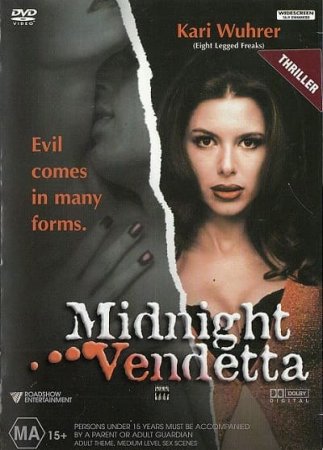 Midnight Vendetta (2000)
Year:

2000

Directed by:

Jim Wynorski

Starring:

Kari Wuhrer, Jeff Trachta, Barbara Crampton

Genre:

Erotic Thriller, Crime, Drama

Country:

USA

Category:

thriller
Also Known As:
Thy Neighbor's Wife / Poison / Sex AttractionDescription:
Sexy, thrilling and DEADLY...
Ann, a beautiful, young woman (KARI WUHRER, 'Eight Legged Freaks, 'Anaconda') risks everything and seduces a client to help her husband's career. But when he is fired and then tragically suicides, his young widow is pushed to the edge of insanity.
Bent on revenge she seeks out first her husband's boss and his mistress, and then Nicole (BARBARA CRAMPTON, 'Space-Truckers') the woman who became her husband's successor.
Under the guise of housekeeper, Ann slowly and seductively works her way into the woman's house and then under the skin of each member of her family. Using her sexuality to astating effects, Ann seduces Nicole's husband then turns her attention on Nicole's son and her drifter daughter. No one is safe from her deadly charms and she won't be content until everyone has paid - in full.
Duration:
01:32:26
Language:
English 
Quality:
DVDRip
Format:
MP4
Size:
1,64 GB
DOWNLOAD