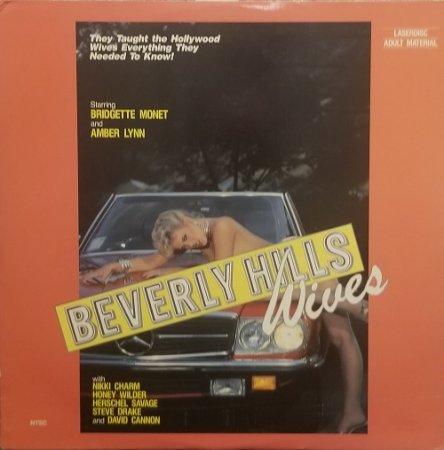 Beverly Hills Wives (1985)
Year:

1985

Directed by:

Jack Remy

Starring:

Amber Lynn, Bridgette Monet, Honey Wilder, Nikki Charm

Genre:

Classic, Feature, Straight, All sex

Country:

USA

Category:

adult
Description:
Beverly Hills Wives have one helluva time! That's what Leslie Lords (ABAMBER LYNN) discovers when she arives there to write a story on the sex lives of these vixens with more money than morals.
To get the inside story, she first interviews Kelly (DAVID CANNON), a young actor who works between jobs as a gardener for one of the town's leading talent agent and her big-time producer husband. Next, Leslie meets with one of filmdom's superstars, as Pamela Blake (HONEY WILDER) shows Leslie what her sex life is all about. Meanwhile, the producer, who has just finished "auditioning" Pamela, begins another "audition" with pretty starlet, Dixie Shane (NIKKI CHARM), who just happens to be the wife of the stud-gardener. At the same time, Edith (BRIDGETTE MONET) decides that she has had her fill of her husband's screwing around, and she hits the Rodeo Drive boutiques in an effort to shop her blues away, but Kelly finds her and eases her anxiety with some of his unique Hollywood talents.
They may be bored, and they may have too much money, but one thing you'll have to say about these spoiled females, is that they are very good at what they do. Watch Pamela, Dixie, Leslie and Edith go after what they want, and get it any way that they want it. It won't take long for you to understand just how they make it to the top of Beverly Hills!
Duration:
01:21:48
Language:
English 
Quality:
LDRip
Format:
MP4
Video:
MPEG4 Video (H264) 720x480 (4:3) 29.97fps 2000kbps
Audio:
AAC 48000Hz stereo 192kbps
Size:
1,25 GB