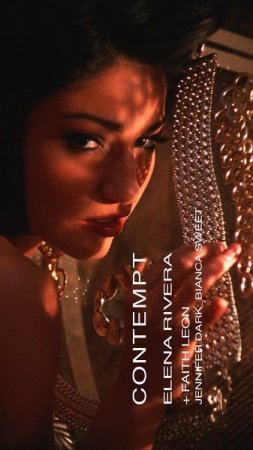 Contempt (2010)
Year:

2010

Directed by:

Andrew Blake

Starring:

Elena Rivera, Faith Leon, Bianca Sweet, Jennifer Dark

Genre:

Lesbian, Artcore

Country:

USA

Category:

adult
Description:
Released in 2010, "Contempt" was a limited edition release of book and blu-ray from Andrew Blake. 1000 copies were released. The feature was later included in the DVD "X2".
This is a typical Andrew Blake feature, with an original score by Raoul Valve and presented in Blake's distinctive artistic style.
Over the years, Andrew Blake has been told by many viewers that they enjoy his long form feature DVD's by playing them as "ambient visuals" on a continuous loop. The enclosed Blu-Ray DVD Disc of CONTEMPT was designed to run continuously as an instant "Custom Video Installation" on a dedicated Blu-Ray player and monitor. This Blu-Ray Disc is presented as a pristine 1920x1080 High Definition viewing experience which includes 5.1 Surround Sound. Each Blu-Ray BD-R DVD Disc was authored on the Sonic Scenarist, then hand printed in Andrew Blake's studo in Venice Beach, CA. In addition, each disc is signed by Blake. This signed, limited edition book accompanies his film CONTEMPT, starring the sensuous naked beauty of Elena Rivera. It is the first Andrew Blake production to be presented in this format. All the images were taken from the original film to High Definition transfers. CONTEMPT creates an arousing mood in any environment in which it is presented.
Dreamlike, evocative - yet explicit - Andrew Blake's film CONTEMPT is a free flowing work of associations, and represents Blake at his most abstract. The film's languid pacing parallels female orgasm, as it attains its intense climax by editing that cross cuts on free associations, much as the brain does when approaching orgasm. Blake ingeniously and subtly mirrors the release of orgasm by the manipulation of his soundtrack as it complements his images, opening the claustrophobic mind set of the unfolding action by switching from the establishing, moody, ambient score of Raoul Valve to purely ambient sound effects, mixed with natural sound.
Duration:
00:30:02
Language:
English
Quality:
BDRip 1080p
Format:
MKV
Video:
MPEG4 Video (H264) 1920x1080 23.976fps 24500kbps 
Audio:
Dolby AC3 48000Hz 6ch 448kbps
Size:
5,34 GB