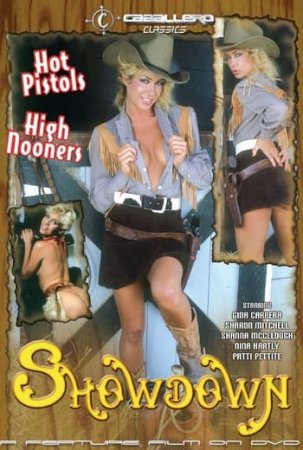 Showdown (1985)
Year:

1985

Directed by:

Henri Pachard

Starring:

Gina Carerra, Sharon Mitchell, Shanna McCollough, Nina Hartley, Patti Petit

Genre:

Feature, Classic, All Sex

Country:

USA

Category:

adult
Production:
Caballero Home Video
Description:
Out at the Wanton West comes the tantalizing tale of the lusty gals at the Bar Nothing Ranch. The madame of this bawdy bunchis always disturbing a piece of Judge Morgan in exchange for illegal protection.
Back at the ranch, Jennie and Liz heat up the bunkhouse with some steamy girl-girl action while in the corral, Kate and Bess are oozing all over each other in a luscious mud bath! But lo! Three hung strangers approach! Marty takes Bess in a horny horsey ride while Al unwinds Kate in a hammock! And Jack starts a grase fire by making bacon with Jennie and Liz in the barn. What about the show down? Well, it's the lowdown that's more fun! Take aim at this delicious duel thats one hot highnooner!
Duration:
01:16:16
Language:
English 
Quality:
DVDRip
Format:
MP4
Size:
1,44 GB
DOWNLOAD