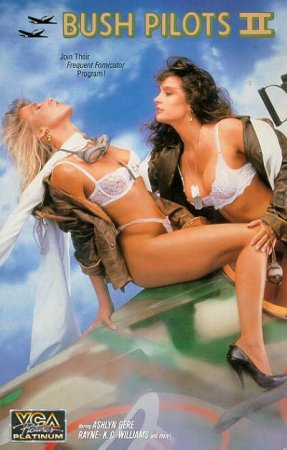 Bush Pilots 2 (1992)
Year:

1992

Directed by:

Michael Craig

Starring:

Ashlyn Gere, KC Williams, Ona Z, Rayne, Sharon Kane

Genre:

Feature, Classic

Country:

USA

Category:

adult
Also Known As:
Bush Pilots II: Deeper In The Bush
Description:
If Bush Pilots did well in your store, stock the sequel. Forone thing, the seldom-seen Rayne has returned to reprise her role as Melody, the partner who can't fly worth shit. Once again, Ashlyn Gere plays Kate, the ultra-sexy competent pilot — though nothing in this equals the heat of her scene with Joey Silvera in the original. Obviously, somebody realized they had a good idea here, so they've fleshed it out with Sharon Kane as the ladles' secretary, and Mike Homer as the cheap detective who's enamored of Gere.
The plot revolves around industrial espionage; specifically, swimsuit designs forthe "Satin Secrets" catalog, and the folks who are plotting to steal them (West, Zee). But never mind that; it's mainly an excuse to add a phenomenal amount (for a XXX tape) of tease to the production. Admirers of Sharon Kane — and I'm one — will love seeing her dressed in a bikini, mugging for the camera about midway through the tape, but just wait till the end, when the entire female cast poses.
Best sex awards go to Gere, first for her liaison with Homer, then later with West, but Rayne's scene with Ryker is not to be sneered at ... especially since it ostensibly happens in a tiny plane on autopilot! Look for an abbreviated girl/ girl/girl number at the end, which unfortunately represents Ona Zee's only sexual contribution to this presentation, but don't let that stop you from grabbing this excellent sequel.
Duration:
01:25:22
Language:
English
Quality:
VHSRip
Format:
MP4
Size:
1,31 GB
DOWNLOAD