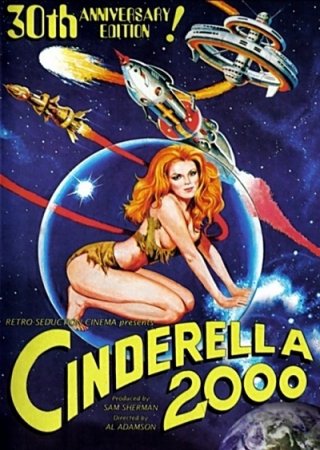 Cinderella 2000 (1977)
Year:

1977

Directed by:

Al Adamson

Starring:

Catharine Burgess, Jay B. Larson, Vaughn Armstrong

Genre:

Erotica, Comedy, Sci-Fi, Musical

Country:

USA

Category:

comedy
Also Known As:
Future Sex 
Description:
In the year 2047, sex is forbidden and Big Brother uses robots to keep on eye on everyone. One young girl tries to outwit the government so she can be with the man she loves.
This 1977 sci-fi cult classic from drive-in movie legends Al Adamson & Sam Sherman (Dracula vs. Frankenstein, Blazing Stewardesses) takes the classic Brothers Grimm fairy tale into the farthest reaches of a way-out future and puts an Orwellian spin on it with a helping heaping of sexy shenanigans tossed in for good measure.
A sinister Big Brother government has declared sex illegal in the year 2047, but poor Cindy could care less. Dressed in rags and a slave to her wicked step-sisters, the beautiful young woman knows that escape and passionate romance are dreams never to be fulfilled. But one day Cindy meets a handsome young man and falls head-over-heels in love and lust. Braving the Fornication Police, a wise-cracking, sex-sniffing robot, and the government's impotent omnipotent leader who's not "up" to the task, sexy Cindy must overcome every erotic obstacle and funky musical interlude to be with her prince.
Duration:
01:43:24
Language:
English + Commentary
Subtitles:
English 
Quality:
BDRip 720p
Format:
MKV
Video:
MPEG4 Video (H264) 1280x536 23.976fps 2259kbps 
Audio:
Dolby AC3 48000Hz stereo 256kbps
Size:
1,63 GB