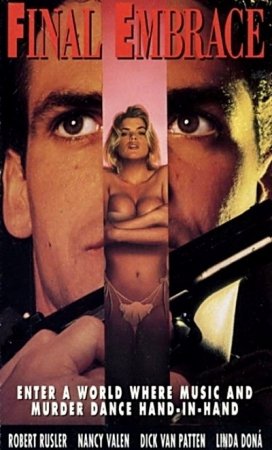 Final Embrace (1992)
Year:

1992

Directed by:

Oley Sassone

Starring:

Robert Rusler, Nancy Valen, Dick Van Patten, Dee McCafferty, Linda Dona, Wally Kurth, Mike Castagnola

Genre:

Thriller, Erotic

Country:

USA

Category:

thriller
Description:
DIRTY COPS, DIRTY GIRLS AND DIRTY DEALS
Candy Vale has it all. Hip and sexy - Candy rules the music video world with her voluptuous voice and beautiful body. And then one morning Candy's lover discovers her murdered...
Enter Laurel (Nancy Valen), Candy's younger sister. Determined to uncover the mystery surrounding her sister's death, Laurel teams up with Kyle (Robert Rusler), a young L.A. cop obsessed with Candy's image and partnered with veteran Detective Wendall Larch (Dick Van Patten). With all her looks and charm, Laurel can easily wear her sister's crown... if she wants it.
What Laurel uncovers is a world where music and murder dance hand-in-hand and best friends can sometimes be deadly enemies.
Duration:
01:25:13
Language:
English
Quality:
LDRip
Format:
AVI
Video:
  Xvid 624x480 23.976fps 2148kbps
Audio:
Dolby AC3 48000Hz stereo 192kbps
Size:
1,39 GB