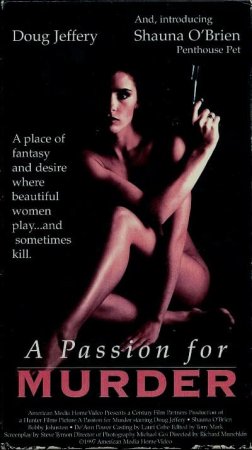 A Passion for Murder (1997)
Year:

1997

Directed by:

Richard W. Munchkin

Starring:

Doug Jeffery, Shauna O'Brien, Bobby Johnston, De'Ann Power, David Elliott, William Knight, Ashlie Rhey, Doria Rone, Charla Driver, Kevin Knotts, Maeve Malone, Bob LaVetta, Jim Adelstein, Skip Cook, Tania Mejia, Shari Brown, Nicole Gian, Steve Tymon, Buddy Barnett, Brad Linaweaver

Genre:

Erotic thriller

Country:

USA

Category:

thriller
Also Known As:
Deadlock: A Passion for Murder
Description:
A place of fantasy and desire where beautiful women play...and sometimes kill.
Evan Holloway (Bobby Johnston) is one of the richest men on Earth, he is a multi-millionnaire publisher of the best selling men's magazine, Passion. Due to his success he can live a life that other men can only dream of. Any woman he wants, he can have. Any fantasy he cares to live, he does. Anything he wishes to own, he can buy. But now, Evan Holloway has a problem, he has just become the target of a sinister assassination threat. Detective Nick Janson (Doug Jeffery) is recruited to stop the assassin, but when he becomes involved with the beautiful Kirsty (Shauna O'Brien) Evan's former wife, things become complicated... Especially as Kirsty is the prime suspect.
Duration:
01:25:04
Language:
English
Quality:
DVDRip
Format:
MP4
Size:
1,54 GB