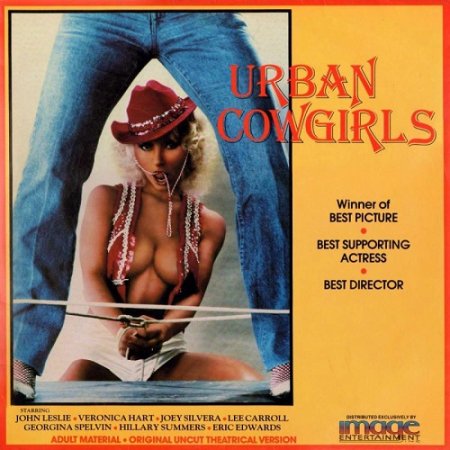 Urban Cowgirls (1980)
Year:

1980

Directed by:

Jonathan Lucas (as Tsanusdi)

Starring:

Veronica Hart, Georgina Spelvin, Lee Carrol, Hillary Summers

Genre:

Classic, All Sex

Country:

USA

Category:

adult
Description:
Rock along to Rock-A-Bye Billy's and meet those good ol' gals. the Urban Cowgirls! Against the giltter and spangle, the jingle and jangle of Billy's big-city dance hall, these worm hearted honeys lay out all their cards! Jocelyn is a regular at Billy's and she believes in "live and let live"_ and having a good time while doing it! At play she's anywhere the action is, often with her bosom chum, Amanda. Amanda has the good fortune to be the gorgeous, young widow of a wealthy man; money is no objed as she picks and chooses, and always gets what she wants.
Then there's Marianne - fresh-faced and innocent, who has a smile for everyone but eyes only for one. She's an ol' fashioned country girl with plenty of romantic fantasies - backed by the belief that a man should do the pursuing_. once you have his attention, of course! Headlong passion charges every minute of this splendid portrait of familiar folk. Look closely - you may see someone you know!
Note:
First scene edited out as Misty Regan may have been underage at the time of filming.
Duration:
01:19:10
Language:
English 
Quality:
LDRip
Format:
MP4
Video:
MPEG4 Video (H264) 720x480 (4:3) 29.97fps 1999kbps 
Audio:
AAC 48000Hz stereo 192kbps
Size:
1,21 GB