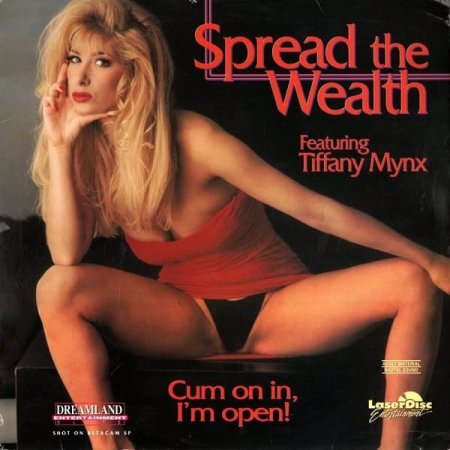 Spread The Wealth (1994)
Year:

1994

Directed by:

Eric Edwards

Starring:

Tiffany Mynx, Cory Brandon, Isis Nile, Rebecca Wild, Sahara Sands, Sydney St. James, Sarah Jane Hamilton

Genre:

Feature, Classic

Country:

USA

Category:

adult
Production:
Dreamland Entertainment
Description:
Dreamland Entertainment is proud to present international sex sensation Tiffany Mynx in this full length feature...
 Welcome to Glitter Gulch Creek, once a heaven to thousands of gold-crazed crick dippers. On one side of the crick, lives a bunch of horny prospectors, on the other side, a group of the prettiest gals this side of the Tetons. For two bits, a sundrenched planner could get himself a shot of sippin' whiskey and for a bag o' gold dust he could get himself laid at the Glitter Gulch Arcade, Parlor House, and Gentleman's Club. Unfortunately, after the rush of '69', the crick run dry o' gold and the diehard dippers that stayed drooled fierce over the darlings cross the crick with harry a glint o' glitter to relieve their pent up passions. That is, until Nathan Thomas found a nugget 'bigger'n his fist'. What happened after that went down in history books.
Duration:
01:23:12
Language:
English
Quality:
LDRip
Format:
MP4
Size:
1,27 GB