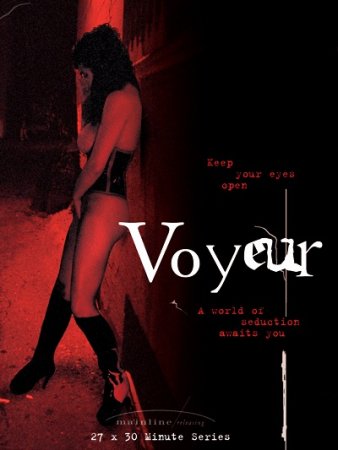 The Voyeur (2001)
Year:

2001

Directed by:

B.R. Lewis

Starring:

Dru Berrymore, Herschel Savage, Keri Windsor.....

Genre:

Erotic, Short, Drama, Romance, TV Series

Country:

USA

Category:

series
Production:
Mainline Releasing ( MRG Entertainment )
Description:
Step behind the camera and into the mind of a voyeur. This cutting edge series takes you into the private lives of the uninhibited, to observe, first hand, couples exploring their sexuality and testing the limits of the forbidden and the inexpected. Each episode is a raw expose of today's lovers in provocative situations
Starring:
"Taboo Desires"
Dru Berrymore, Herschel Savage, Keri Windsor
"Truth or Dare"
Gabriella Hall, Kyle Kleefield, Richard Bramson, Amber Newman
"Old Habits"
Micah May, Syren
"It All Comes Out in the Wash"
Jezebelle Bond, Bruce Lurie, Ava Vincent
"Divorce Courtship"
Sunrise Adams, Annie Body, Randy Spears, Jeff Hutton
"Terri and Wayne"
Griffin Drew, Justin Dunne
Duration:
01:15:57 (6 episodes)
Language:
English
Quality:
SATRip
Format:
MP4
Video:
MPEG4 Video 640x480 30fps 1492kbps
Audio:
AAC 48000Hz stereo 128kbps
Size:
884 MB 
Download
Starring: 

"Seduction"
Chloe, Anthony Skordi, Joe Souza
"A Little Kink"
Richard Lounello, Monica Mayhem, Nina Ferrari
"Time Share"
Hulia Parton, David Usher
"Taboo:Tom, Paula & Joanne" 
Brad Bartram, Gabriella Hall, Felony
"Neglected Wife"
Amber Karney, Carlos Milano
"Legal Briefs"
Craig Stepp, T.J. Hart, Eva Vincent, Jack Ketchmark


Duration: 01:13:13 (6 episodes)
Language: English

Quality: VOD 
Format: MP4
Video: MPEG4 Video (H264) 640x480 25fps 1496kbps 
Audio: AAC 44100Hz stereo 128kbps
Size: 853 MB


Download
Starring: 

"Teacher and Student" 
Bruce Lurie, Susan Featherly
"Strip Truth"
Nikita Kash, Rafe', Cheyenne, J.Ketchmark
"First Time"
Venus, Amber Kamey, Ed Johnson
"Branching Out"
Joe Souza, Sienna, Danny Pape, Sunrise Adams
"The Young Girl"
Nakata Kash, Robert Donovan, Chris Evans, Sienna
"Carrie's Coming Out"
Alexe Foxe, Wanda Curtis, Maureen Lavette


Duration: 01:14:10 (6 episodes)
Language: English    
Quality: VOD
Format: MP4
Video: MPEG4 Video (H264) 720x480 23.977fps 1571kbps
Audio: AAC 48000Hz stereo 195kbps 
Size: 939 MB


Download