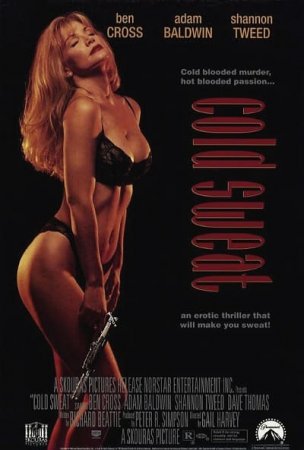 Cold Sweat (1993)
Year:

1993

Directed by:

Gail Harvey

Starring:

Ben Cross, Adam Baldwin, Shannon Tweed

Genre:

Erotic thriller

Country:

Canada

Category:

thriller
Description:
It will give you the chills!
Mark Cahill (Ben Cross) is a happily married family man with a secret, illicit trade - he is a professional assassin.
Haunted by the memory of an innocent bystander he killed during his last job, Mark has decided to leave the business of murder.
He accepts a final, lucrative assignment to kill a ruthless businessman's overly ambitious partner. But as Mark descends deeper and deeper into the job, he uncovers a sinister intrigue between the businessman (Dave Thomas), his sexy wife (Shannon Tweed), and her lovers (Adam Baldwin, Henry Czerny) - a deadly game in which the hunter becomes the hunted.
With white-knuckle suspense and deliciously shocking turns, Cold Sweat is an erotic thriller that really delivers the heat.
Duration:
01:33:06
Language:
Russian, English
Quality:
BDRip 720p
Format:
MP4
Size:
4,08 GB
DOWNLOAD